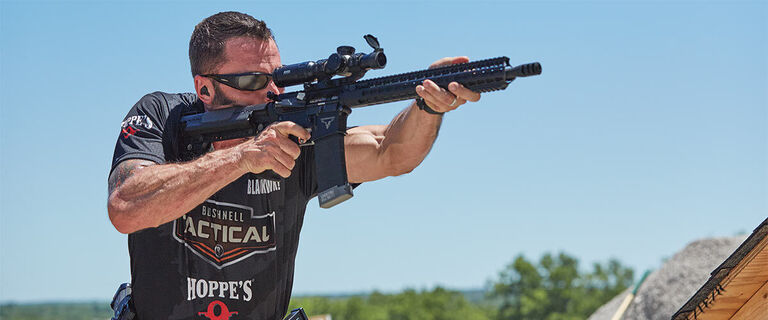 Producer and Co-Host of Shooting USA
Hometown: Franklin, TN
Shooting Since: Age 7, plinking cans with dad
Shoot: (3 gun/precision, etc.) All disciplines of USPSA, IDPA, Steel Challenge, NRA action pistol, and Precision Rifle.
Favorite Shooting Memory: "First time I connected on a 1000 yard target with my precision rifle and seeing that impact."
What's your longest shot?: 1150 yards at the Sin City Precision match on Nellis Airforce base in Las Vegas, NV John Scoutten was involved with Shooting USA from day one – but back then he was an intern, toiling behind the scenes with all the gear and equipment needed to make a television show. Now, some 20 years later, John is co-host of the show that is anchored by his father, Jim Scoutten, now as it was then. John interviews and participates alongside the best competitive shooters in the nation. He shows the challenges they face, as well as their thought processes. The idea is also to show the audience that you don't have to be an expert marksman to enjoy and compete in shooting sports.
Top Accomplishments:
Husband and Father

Winner of the NSSF Great Shots Great Stories Award

Helping to build the longest running shooting sports television brand, ShootingUSA

Bringing new people into the shooting sports
SOCIAL: