Easybird® Auto-Feed Doubles Trap
Price reduced from

$860.36

to
$645.27



Easybird® Auto-Feed Doubles Trap
Price reduced from

$860.36

to
$645.27
or 4 interest-free payments with
ⓘ
No Interest if paid in full in 6 months on purchases of $99+. Subject to credit approval. See Terms
Get dialed-in on doubles thanks to the revolutionary design of the EasyBird® Auto-Feed Doubles trap.
Expected Availability:
false

WARNING for California Residents
Get dialed-in on doubles thanks to the revolutionary design of the EasyBird® Auto-Feed Doubles trap. Featuring a detachable double-stack magazine with 100 clay capacity and a 50-foot release cord with foot pedal control, the Auto-Feed Doubles trap reliably offers ATA single or double practice for league shooters and bird hunters. It throws standard or International clays from 35 to 50 yards and has an easy-to-adjust elevation range up to 30 degrees.
Detachable 100-clay, double-stack magazine accepts 108mm or 110mm clays

Throws ATA singles and doubles from 35 to 50 yards

Comes with 50-foot release cord with pedal release and three-legged stand

Throws 3,000 to 5,000 targets with fully-charged 12-volt deep cycle battery
Features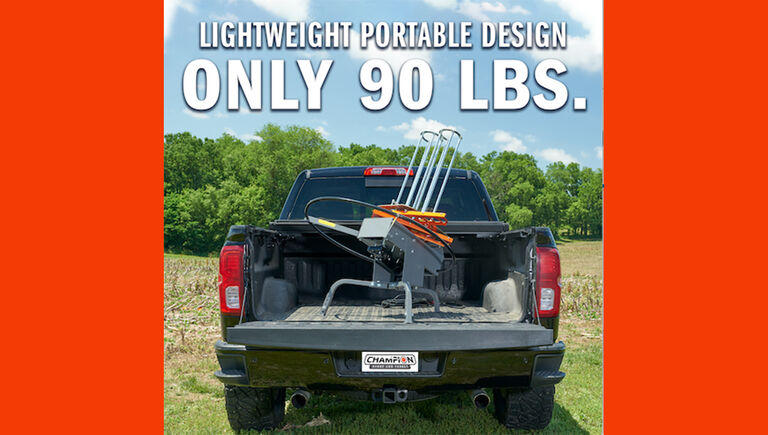 Lightweight and Portable
The Easybird Doubles is lightweight and easily portable, weighing in at only 90 pounds, allowing you to take it with you without any hassle.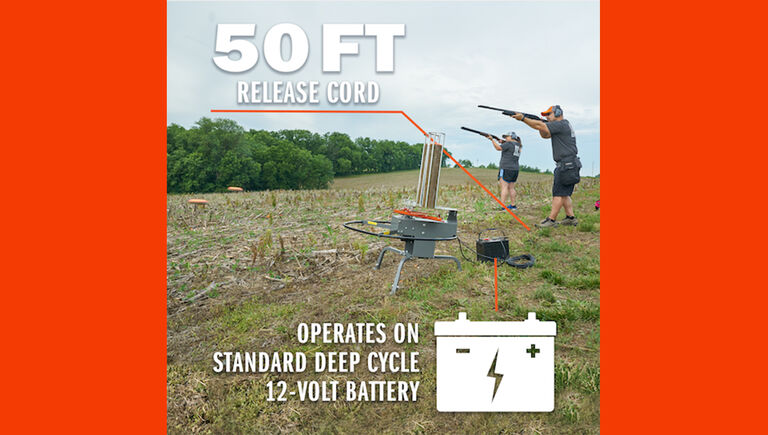 50 Foot Release Cord
No need for a partner. The Easybird features a 50 foot release cord pedal so you can operate the trap by yourself.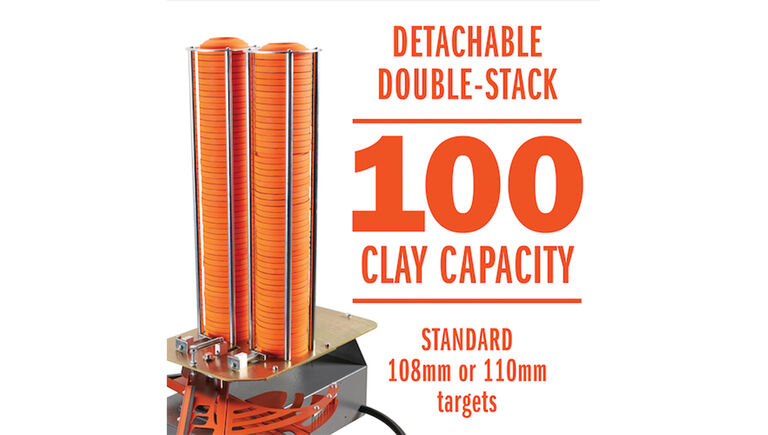 Detachable Magazine
The Easybird Double features a detachable magazine capable of holding up to 100 clays at a time, giving you more time to shoot, and less time worrying about constant reloads.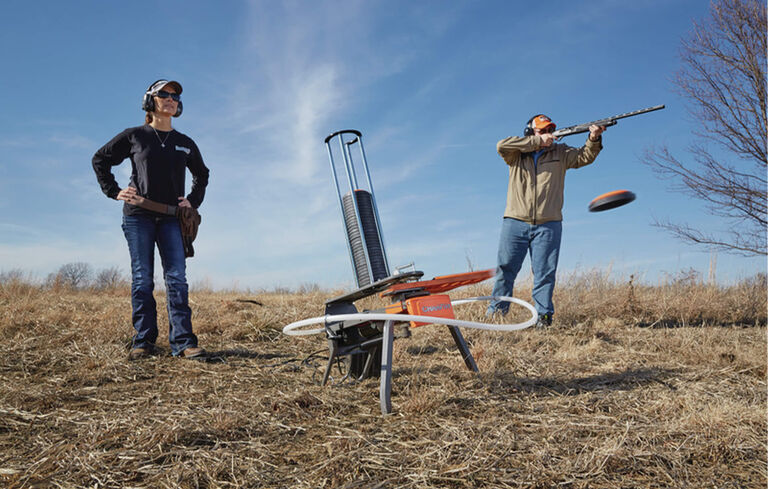 Don't Just Improve. Become a Champion
Champion offers a variety of manual and electric traps to accommodate any shooter or shooting range. Our affordable and fun auto-feed trap throwers increase the challenge for the sporting shooter. Ideal for back-yard shooting and lengthy practice sessions with friends, these popular, reliable traps handle high-volume throwing with ease. Champion continues its reign as "King of the Air."
Champion: Own the Range
At Champion, we understand the love of spending the day at the range. We are passionate about making better shooters. Whether you're a beginner or looking to fine-tune your skills, we have the products for every firearm discipline. Champion is a leading provider of quality trap throwers, paper targets, metal targets, clay targets, hearing and eye protection and shooting systems.
Specs
| | WHEELYBIRD 2.0 AUTO-FEED TRAP (40925) | WHEELYBIRD AUTO-FEED TRAP (40909) | EASYBIRD AUTO-FEED TRAP (40910) | EASYBIRD AUTO-FEED DOUBLES TRAP (45322) | EASYBIRD AUTO-FEED 6-PACKER TRAP (40911) | EASYBIRD AUTO-FEED 6-PACKER TRAP WITH OSCILLATING BASE (40912) | WORKHORSE AUTO-FEED ELECTRIC TRAP (40916) |
| --- | --- | --- | --- | --- | --- | --- | --- |
| CYCLE TIME | 1.75 sec. | 2 sec. | 1 sec. | 1 sec. | 1 sec. | 1 sec. | 2.5 sec. |
| MAGAZINE CAPACITY | 50 clays | 50 clays | 50 clays | 100 clays | 150 clays | 150 clays | 50 clays |
| LAUNCH ANGLE ADJUSTMENT | 30 degrees | 30 degrees | 30 degrees | 30 degrees | 30 degrees | 30 degrees | 3 launch angles: 14 degrees, 20 degrees, 27 degrees |
| THROWING RANGE | 55 to 70 yards | 55 to 70 yards | 55 to 70 yards | 35 to 50 yards | 55 to 70 yards | 55 to 70 yards | 55 to 75 yards |
| FOOT PEDAL CORD LENGTH | 25 ft. | 25 ft. | 50 ft. | 50 ft. | 50 ft. | 50 ft. | 25 ft. |
| USABLE CLAY SIZES | Standard 108mm or International 110mm | Standard 108mm or International 110mm | Standard 108mm or International 110mm | Standard 108mm or International 110mm | Standard 108mm or International 110mm | Standard 108mm or International 110mm | Standard 108mm or International 110mm |
| COMPATIBLE WITH | WheelyBird and Workhorse Wobble Base (40924) | WheelyBird and Workhorse Wobble Base (40924), WheelyBird with removable foot pedal use Wireless Remote (40923)* | | | | | Wheelybird and Workhorse Wobble Base (40924), Wireless Remote (40923) |
| WEIGHT (APPROX.) | 48 lbs. | 48 lbs. | 80 lbs. | 91 lbs. | 125 lbs. | 145 lbs. | 32 lbs. |
| INCLUDES | Wireless Remote (40923), 25ft pedal | | | | Trap Taxi (40261) | Trap Taxi (40261), EasyBird Auto-Feed Oscillating Base (40913) | |
*post 2017 models